A PREVIOUSLY UNKNOWN VIC DUAL BOARD - MADE BY ATARI?
Click on any image to bring up a larger version
I recently came across this board, while going through several VIC boards I bought recently
At first look, it seems like a normal Gremlin Vic Dual PCB. However, there are everal things which make me beleive that this was manufactured and assembled by Atari. First, and most obvious, are the three PROMs on the board. Below is a close up of one of them
You can clearly see the Atari logo next to the Gremlin prom number. The other two also have the Atari logo.
Take a look at the close up of the board below
Note the ROM sockets. Gremlin do not use this type of socket, it's found on early Atari boards, such as Asteroids, the same era as this PCB. Also, look at the Test point, a round loop exactly the same as on other Atari boards. Gremlin test points are just a stiff pin sticking out of the board.
However, the board appears to be a Space Attack / Head on 1 dual game,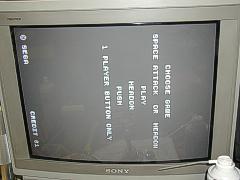 This game does not appear in any listings that I've looked at. The Head On game it plays is the vertical orientation, the same as Head On 2 dual games. Also, the ROM numbers are MPR-1 thru MPR-8, which are listed elsewhere as being from other games (Blockade).
Here is a dump of the roms - spaceattack_headon1.zip
If anyone knows more about this particular game, I would love to hear from you!
mark@leopardcats.com
Thanks for looking!